Energy Web was founded in 2017 to promote the development of blockchain technologies in the energy sector. The non-profit organization aims to accelerate the global energy transition by developing and deploying open source web3 technologies. These are designed to help companies derive business value from clean and decentralized energy sources. The Energy Web Foundation uses blockchain technology to create a secure and transparent energy ecosystem.
| | |
| --- | --- |
| Token | EWT |
| founded | 2017 |
| Projects | Volkswagen, Vodafone, Shell, Eon |
Problem
"Clean energy and carbon markets have transparency problems" (Energy Web). To unlock latent demand for clean energy and low-carbon solutions, transparency is key. To achieve a future with global warming of 1.5 degrees Celsius or less, a new level of transparency must be created in energy-intensive industries and supply chains. The technology to do this already exists, but verification processes are opaque and accounting systems across industries are fragmented. Buyers and sellers do not have the right tools to enable tracking and auditing.
Solution
This is where Energy Web comes in because they solve these challenges by putting their focus on and providing all stakeholders with the ability to review all data, at the entire time of the supply chain lifecycle.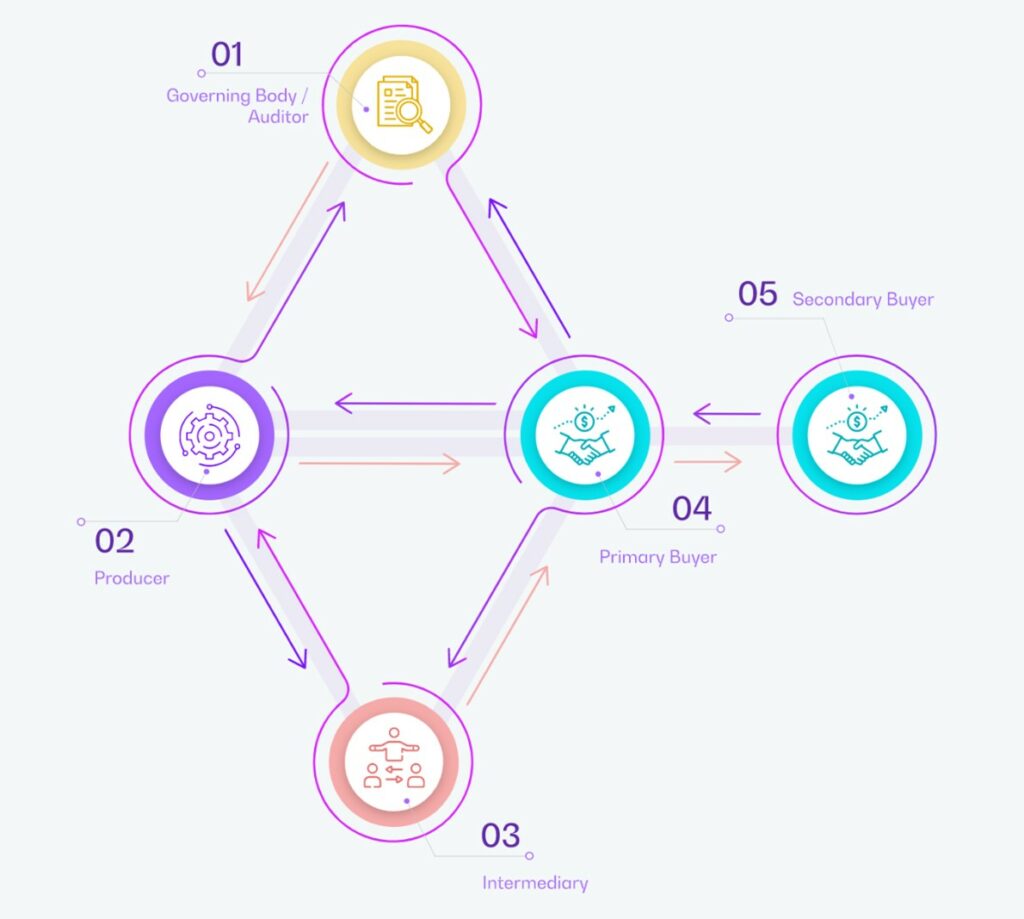 Photo: What we do – Clean Energy – Energy Web
Applications:
Green Proofs: EW's Green Proofs is a customizable solution that enables the registration and tracking of low-carbon products and their attributes across complex supply chains. Unlike other blockchain-based tracking solutions that simply tokenize existing registry certificates, Green Proofs allows users to independently verify the attributes and qualifications of producers, as well as the accuracy of the data and business logic that governs each step in the certificate's lifecycle.
Assets Management: Energy Web's Asset Management provides a customizable solution by integrating standalone identity and access management tools in an enterprise-friendly manner. This gives enterprises the ability to effectively manage all types of assets in environments with dynamic network boundaries. With advanced role definition, credential issuance and management, and event tracking capabilities, EW Asset Management enables role-based access control and identity management for both human users and software and hardware systems.
Data Exchange: EW Data Exchange is a solution that significantly simplifies communication and data processing between organizations by eliminating the need for a central broker. With only one integration, different protocols and use cases can be covered. Organizations can apply Energy Webs Data Exchange for the following examples: Establishing dynamic, tamper-proof registries for distributed energy resources or simplifying operations for e-mobility solutions, such as roaming, advanced tariffs and vehicle-to-grid programs.
---
Energy Web Token (EWT)
The Energy Web Token (EWT) is the cryptocurrency created specifically for the Energy Web Chain. It is intended to act as a digital currency for energy trading and financing decentralized energy projects. Energy producers can use EWT to sell their renewable energy directly to consumers without relying on centralized energy providers. Consumers can use EWT to buy directly from renewable energy sources to reduce their carbon footprint. By using blockchain technology, these transactions can be made transparent and secure.
In addition to its role as a digital currency, EWT is also a governance token. This means that EWT holders can vote on governance decisions in the network. For example, they can vote on which projects should be supported or which new features should be added to the network.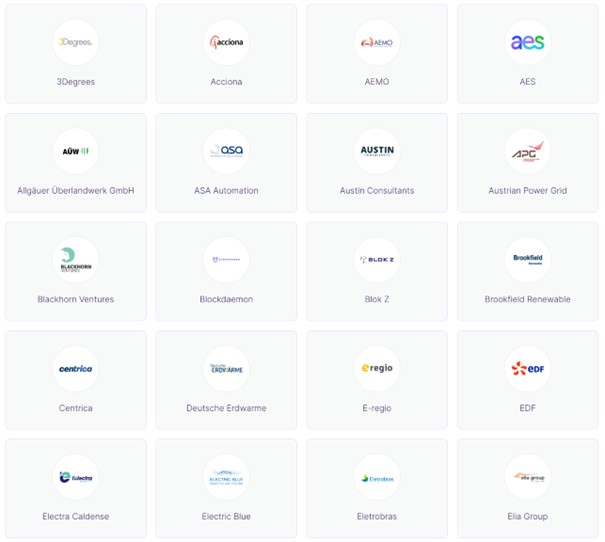 Picture: https://www.energyweb.org/enterprise-members/
Step by Step Staking Guide
Opportunities
Passive source of income in the form of token rewards
Support and participation in decentralized networks
Securing the consensus mechanism
Risks
Smart contract risk: the Green Proof Staking Pool is based on smart contracts, which can create additional risk potential – up to total loss.

Disclaimer: This guide provides technical guidance on how to proceed with the staking process and is not financial investment advice. Telekom MMS is not liable for any losses that may occur through staking via the Energy Web network, or any other staking process.
---
Step-by-step instructions for the MetaMask wallet
2. Click on "Stake" for Green Proof Staking.
Note: If you have connected your wallet (Metamask in this example) in your browser, then you can automatically add the EWC network via "Import configurations".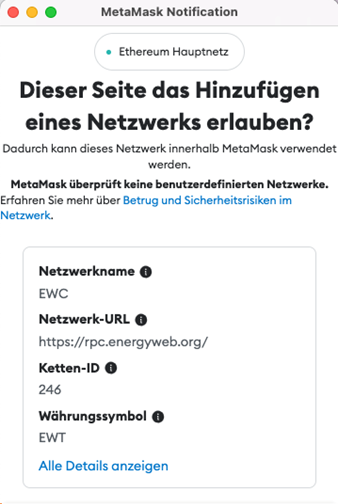 3. To add the network, click "Approve" and confirm Change network.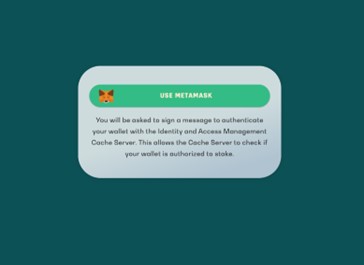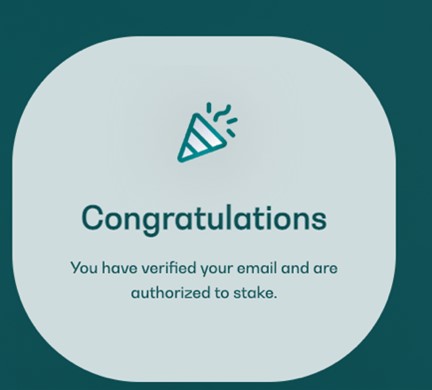 5. In the next step, the staking authorization, an on-chain role must be added. To do this, click on "Add Role".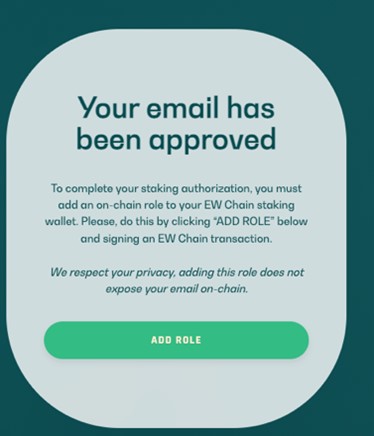 6. By clicking on "EWT Stake Amount" enter the desired amount of EWT and click on "Stake".
Note: You should have Energy Web tokens in your wallet.
7. Your EWT tokens are successfully added to the staking pool.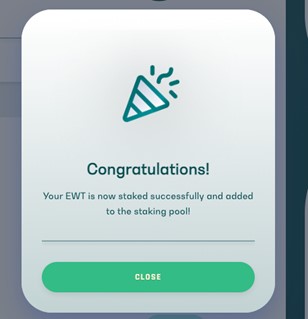 ---
> Deutsche Telekom Partners with Energy Web to Accelerate the Energy Transition
---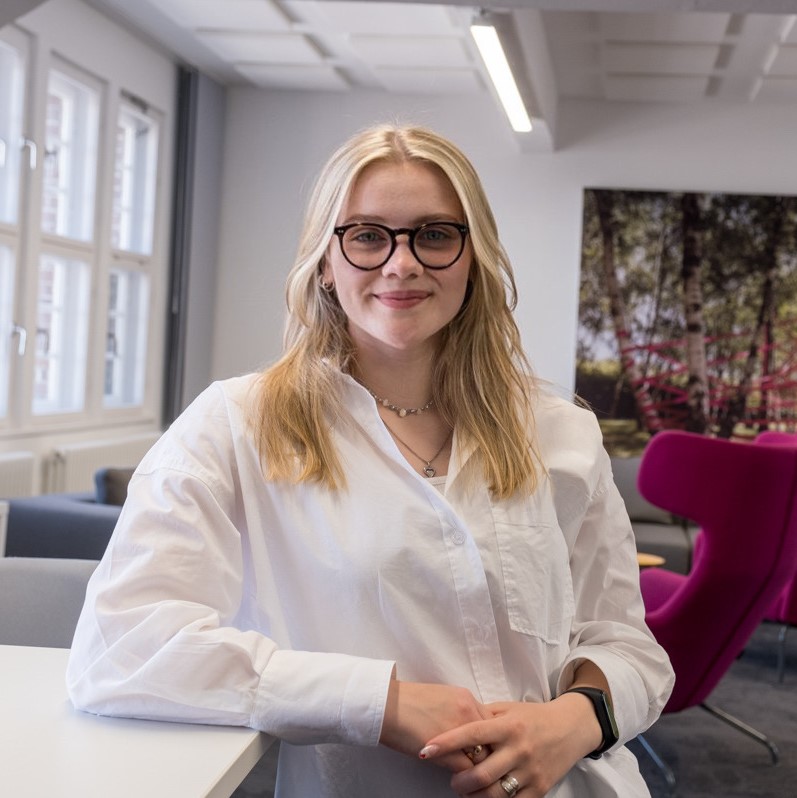 Mia-Caroline Lohe, Working Student in Marketing | Telekom MMS
Mia Lohe supports the marketing team with research, creation and planning of content. Since April 2021 Mia is part of MMS and started as an intern in project management. In July 2022, she switched to Dirk Röder's Web3 and Infrastructure team out of great interest. She is studying Business Informatics in her Master's degree.
Ob Digitalisierungsexpert*in, Werkstudent*in oder Schülerpraktikant*in  – Hier berichten unsere Gastautoren aus ihrem Alltag.